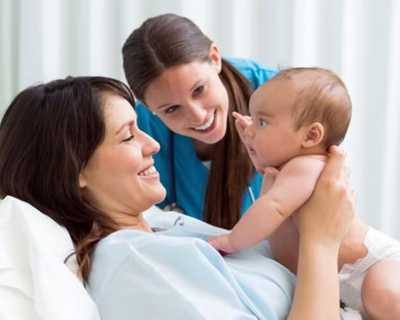 New Born Baby and Mother Care
Pregnancy is a time in a woman's life that she wishes to have, yet it comes with a price of pain and care. A woman goes through three cycles to enjoy her child's lap and the tenderness of her baby's grin. They must exercise caution and seek the advice of an expert during the prenatal, post-partum, and postnatal phases. Many people take care of prenatal and post-partum but neglect the postnatal phase, however, it is equally important. After pregnancy, the women need 24-hour in-home nursing care to boost their recovery.
What do we offer at nursingkart.com?
Nursingkart.com is pledged to deliver a smile to mothers and newborns through endeavour services. A baby care taker at home is required since the mother in her postnatal phase has trouble maintaining the state and the infant demands care from day one. So to please such instances, we offer

Nurses

Our skilled nurses are the ideal response to your worries about finding home attendant services near me.

The nurses will address any postnatal issues and provide care for both the mother and the child.

You do not need to be concerned about prescriptions or lab tests since they will be handled by experienced nurses who will also provide emotional support.

The nurses will establish a balance between pain and emotions, which is the finest part.

Our nurses will also take care of diets, medicines, and reports, and if required will assist you in grabbing contacts of gynaecologists.

Physiotherapist

Many women are concerned about the agony they will experience after giving birth to their child.

The aches are excruciating, and if not treated, they will cause a slew of problems in the female body in the future.

According to several reports, these pains kill 8% of women, and the figure is rising with each cycle.

In order to safeguard your life partner, you should seek the assistance of nursingkart.com's Physiotherapist, as they will aid in the relief of pain and prevent your patient from any catastrophes.

Get the aid of experts at home health care services and offer a smile to mothers from nuisance.

Neonatologist

A new mother and her child should get adequate care and attention within the first 24 hours following delivery.

Most of the time, children require the services of a neonatologist to provide medical care to sick or preterm babies. This is a life-threatening condition, and your doctor may urge you to admit the kid to a neonatal intensive care facility (NICU).

We provide the best home nurse service but will also assist you in the hard-hitting phase by helping you find the best nursing home near you.

When the child is released from the NICU, our nurses will care for both of them to enhance the recovery rate.
Why do you require our assistance?
Nursingkart.com offers cost-effective solutions to queries such as "baby caretaker near me". In order to manage the stress and reduce the anxieties of new parents, we provide skilled carers to help you smile in the midst of an overwhelming occasion.

As your family members, our nurses will play a significant part in aiding you to feel better at this critical time. You do not have to care for the child on your own if you require medical attention. Our nurses will help you recover while also decreasing your workload and stress levels.

According to the most recent research, a new mother requires aid, counselling, and care following her pregnancy to help her recover swiftly. It is also critical for the health of the young kid; her child's health must be regularly evaluated for increased health.

Giving delivery may be both emotionally and physically exhausting, which is why many new mothers prefer nursingkart.com's home care nursing services. Within the first 24 hours after delivery, a new mother and her kid should get enough care and attention, as this will offer a firm basis for both of their growth.